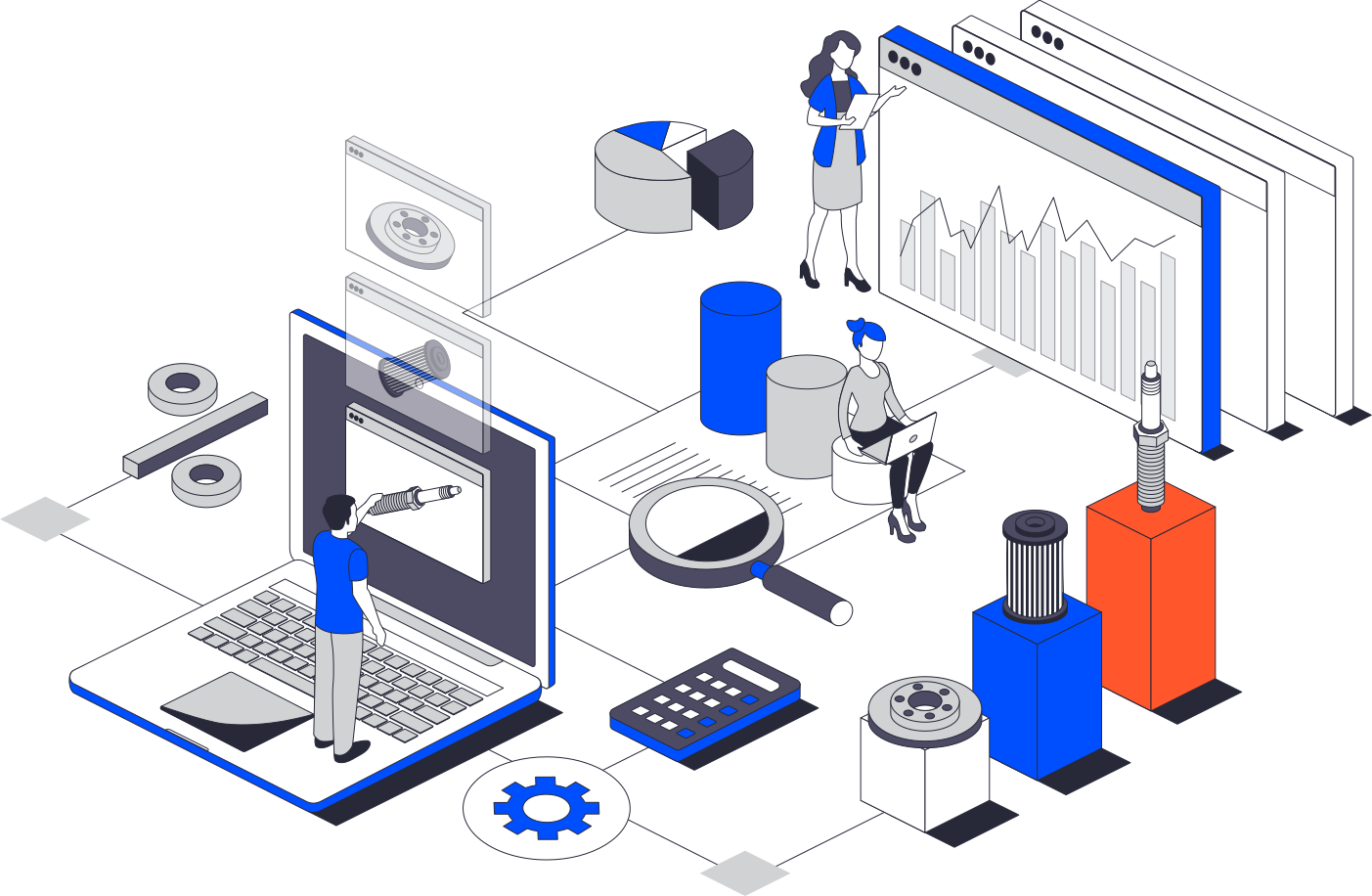 Fuel your business with our custom data packages
Have it your way and use just the high quality standardised replacement parts data you need. We offer extensive support for your data collection and management.
Easily integrate our standardised data into your own solutions
We distinguish ourselves not only through our extensive and globally recognised vehicle and spare parts database, but also through our innovative technologies that make the TecDoc catalogue data available according to individual customer requirements.
Our data package is a set of tables that provides an offline solution containing both the reference data and the parts manufacturer replacement parts catalogue data.
Both the reference data and the parts manufacturers' data is raw data in our standardised TecDoc format. Our data packages can be delivered in either TAF/fixed length or CSV format.
√ The TecDoc Data Package allows optimum use of the standardised TecDoc Catalogue data.
√ The data is provided for download and can used for integration into your own product catalogue, for internal data matching and analysis.
√ Data Delivery is provided weekly or quarterly
Localised content
The data includes all elements of the TecDoc supplier data specific for your selected countries, regions and/or languages
Custom Data Sets
The data is used in conjunction with our TecDoc reference data to extract the various elements of data that you require. You will receive all information that describes and matches the original article
High Granularity
-Included information:
-Article number
-Reference numbers
-Superseding articles
-Trade numbers
-GTIN
-Article criteria
-Parts lists
-Accessory lists
-Graphics and documents
-Packaging information
-Vehicle data and linkages
-Linkage attributes
TecDoc data is your basis for success in the automotive aftermarket
We gather the most up-to-date information from automotive suppliers, replacement parts manufacturers, associations, authorities and institutions worldwide.
This information is either collected and recorded by our experts in a uniform and integration-compatible form or is supplied directly by manufacturers and trade.
The TecDoc data suppliers provide high-quality replacement parts data in a uniform format using our global TecDoc Standard. You can then use the structured data with our TecAlliance solutions, but also in your own way by choosing just the data that you need.
Data Collection
The basis of our data is collected from replacement parts & vehicle manufacturers as well as various other sources like vehicle park data and market statistics. They are compiled by our team of experts and transferred into our TecDoc standard format.
Data Management
Our data base consists of replacement parts data, vehicle data as well as repair and maintenance information and is then distributed via our various solutions:
Web Access
Web Service
Web Shop
App
Data Distribution
Our standardised data is then easily accessible & ready to use for our data users:
Workshops
Parts Dealers
Parts Manufacturers
Fleet & Leasing